Is Work-Life Balance Realistic?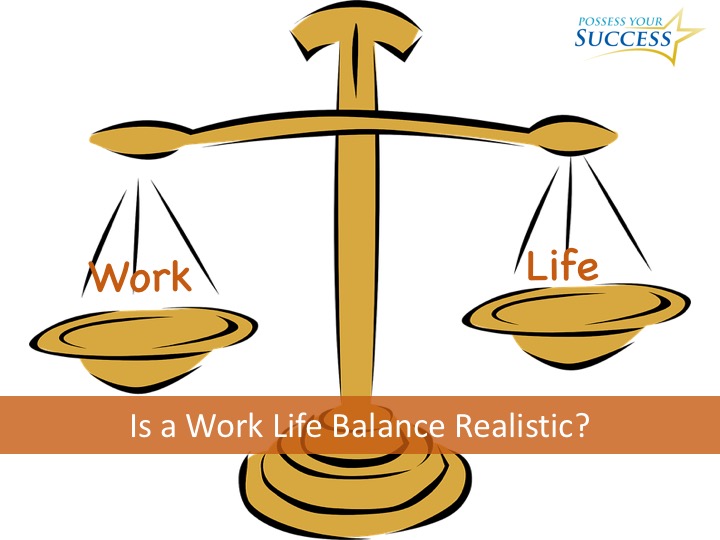 When I say work-life balance, you have a picture in your mind. You've probably seen the articles and pamphlets about finding ways to keep up with work and enjoy the rest of our lives—smiling folks at cubicles, parents helping children with homework, friends spending time together. There are neatly organized bullet points on managing your time, condensing steps, and trying to cut down stress.
The picture I'm experiencing is a little different though. I've been going nonstop in a lot of different directions. My flagship productivity project is well underway but I'm still putting in hours of time. I'm still preparing my weekly blog posts and keeping up with the rest of my business–plus working 45-50 hours a week. I also have a list of things to get done around my house. And I want to be an available, loving husband and father to someone who's still literally a baby.
Frankly, it's exhausting. I'm tired just reading about it. And it makes me wonder: what does work-life balance really look like?
It's hard to actually "balance" all of your competing priorities. Most of us can't convince our bosses to let us work fewer hours, even if we get the same amount done. You can't necessarily balance that—you just have to accommodate it. As Rory Vaden, author of Procrastination on Purpose, points out, balance implies that you can spend equal time in every place. That's just not reality.
I think you can have a balanced life even when everything isn't equal all the time. Sometimes I have to push myself harder at work and sometimes I can spend more time with my family. It's important to make sure that I've found a place for everything important to me.
You can definitely have too much on your plate and it's important to recognize when that happens. Focus on what matters and drop the other stuff—then give that time back over to the things that matter. This takes the pressure off of your and gives you more freedom.
But it's more than just cutting things out. When you have time for projects, you want to make it count. If you'll feel like you're using the time well, odds are you'll try to find even more of it in between appointments. You need to be able to get yourself going but you have the keep that momentum to start unlocking your dreams.
This is why the Get Unstuck project is so important. This tool will provide tips on maximizing your productivity with real advice from real entrepreneurs and influencers. I've had some amazing opportunities to meet with great people and I want to pass that on. You'll get over 30 strategies on how to move forward and get out of that funk. You also have to access exclusive interviews and other great content. You'll be able to save time and get more done. And, if you sign up for the pre-release, you'll have access to a special productivity cheat sheet as well as my interview with the great John Lee Dumas.
Work-life balance can be maintained, at least for a short period.  But things change. Sometimes, you have to burn your candle at both ends. Sometimes work and life both come at you at a million miles an hour and you just have to dig in and hold on. Sometimes you can't change anything in your schedule and just force yourself to push through. Preparing yourself with the tools now will strengthen your focus and resolve for when it's tested next.